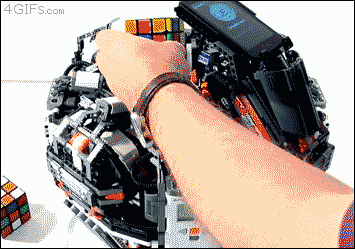 Thought for the Day:
I have been neglecting my blog and decided to start posting again. Life has been busy, but I will try to make time for writing. Play is undervalued in our fast paced competitive society. Child psychologists are acutely aware of the importance of play both as a diagnostic and therapeutic tool with children. Throughout life, play is an important means of reducing stress. As I see it, today's finds may play a significant role in solving some of society's serious problems. Their impact will take time, but what children play with and how they play with one another can influence what kind of adults they become.
Perhaps we need some robots to solve our political problems like the one above that can put the rubic's cube together in seconds. If some of our politicians (without naming names) had played with the new lego toy, they might be less critical of differences. Do you have any suggestions of toys that might help reduce prejudice and open conversations about disabilities? Feel free to offer your ideas.
I am personally glad to see the new Barbie dolls. Growing up, I was adamant to be called "Barbara," not Barbie. The Barbie doll image embarrassed me even as a child. Maybe they should give the dolls a few different names as well. Will these new dolls help reduce the numbers of girls worried about how they look? Or the number of women unhappy with their appearance?
The practical simple suggestions by a parent who is also a teacher may be helpful to you as well in disciplining your children at home.
Finally, as the snow from the last storm is melting, snow art with kids seems like a great way to think positively! Do you have any positive games or art projects that have helped you parent your children? I'd love it if you would share them here (photos welcome, too).
#FF Friday's Fabulous Finds:
Barbie's got a new body. Hope this will help girl's develop more positive self esteem, & reduce diagnoses of body dysmorphic disorders, anorexia and bulimia in our society:
Here's a list of ways to help your kids get published:
http://imaginationsoup.net/2016/01/12/writing-contests-kids-ways-get-published/